Let us help you Fly Through Summer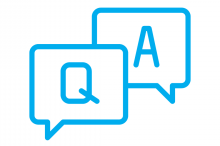 To help travellers navigate the airport and their pre-flight experience, we've created a pathway of Frequently Asked Questions from arrival to departure.
Q: What Documentation & Identification do I need to bring with me to the airport?
Q: What time do I need to arrive at the airport for my flight?
A: Summer is a busy time of year when we see a surge in passenger activity. We recommend contacting your airline directly for their check-in information, we also suggest arriving at least two hours before a domestic flight and three hours before an international flight. This will allow sufficient time for safe arrival, parking, check-in, security screening, and enjoying the amenities in the main terminal and departure area.
Q: Where can I park my vehicle?
A: There is high demand for airport parking during the summer months. Depending on the duration of your trip, we have various parking options available:
Accessible Arrival: We offer designated accessible pick-up and drop-off areas curbside, as well as accessible priority parking on all levels of the parkade and the exterior lot, ensuring easy access to the terminal facilities.
Parkade Hourly: Ideal for those parking less than 24 hours, located on level P1. Look for the "Hourly Parking" signs and follow the directions. Maximum vehicle height is 86 inches.
Parkade Daily: Ideal for those parking for more than 24 hours, available on levels P1, P2, P3, and P4. Follow the "Daily Parking" signs upon approaching the Parkade. Maximum vehicle height is 86 inches.
Terminal Exterior Lot: Located a short walk from the terminal building, this open-air lot is conveniently located for those travelling for any length of time. Look for the "Exterior" parking signs upon entering the parking area. There is no maximum vehicle height for the Exterior Lot.
Park'N Fly: An affordable, long-term parking option at 668 Barnes Drive, just minutes away from the terminal building. Park'N Fly provides a free, accessible 24/7 shuttle service to and from the terminal.
Q: How do I use ridesharing (Uber), Transit, Taxi, and Rentals to and from the airport?
Q: How do I use ridesharing (Uber) to and from the airport?
A: Reserve a ride with Uber using your mobile device. Tip, you can book your ride up to 30 days in advance. The designated rideshare pick-up location is located on Silver Dart Drive (the lower road), slightly south of the Metro Transit bus stop.
View our property map to identify the best drop-off location for your journey.
Q: Where do I get the Halifax Transit bus to and from the airport?
A: The designated Metro Transit bus stop is located on Silver Dart Drive (the lower road) and offers service between Halifax Stanfield and Downtown Halifax. Passenger baggage is allowed on the Regional Express 320. Review Transit's baggage policy for specifics.
Route Map
Schedule
Purchase Tickets
Cash Fares:
Adults/Students: $4.25
Children/ Seniors: $3.00
Note: Exact cash fare is required. Please visit the Halifax Transit Website for more information.
Q: Where can I get a taxi at the airport?
A: Airport car services, taxis, and limos are available curbside outside Arrivals for all passengers.
The cost of the trip will depend on your destination – please see the list of our local Car Service Fares.
For more information, please visit our Ground Transportation desk located in the Arrivals area.
Pre-arranged taxis and limos must be booked in advance. We encourage passengers travelling outside of peak periods to book a Licensed Pre-Arranged Service.
Q: Where can I get a rental car at the airport?
A: The rental car counters are conveniently located on the Lower Level of the Airport Parkade. Follow the signs in the Arrivals area.
Q: How can I check-in for my flight? 
A: You have two convenient options for checking in:
Online Check-In: Check in with your airline up to 24 hours before your flight. Save time by checking in online, saving or printing your boarding pass at home, and organizing your luggage.
In-person Check-In: Visit our departure terminal and check-in at the designated counters for your airline.
Remember to check your airline's guidelines for carry-on bag size and restrictions before arriving at the airport. If you are checking a bag, review your airline's luggage instructions, and make sure it's easily distinguishable and meets the weight and size limitations. The baggage drop-off area is located behind the check-in counters.
Domestic/International Departures Check-In: Located on the main level of the terminal building.
U.S. Departures Check-In: Located on the 2nd floor of the terminal building. All passengers must be processed through U.S. Customs by 4:30 p.m. daily, regardless of their flight time. Please ensure you are checked in and processed by this time, even if your flight is delayed. Our U.S. Preclearance facility allows you to go through U.S. Customs before departing from Halifax, so you can arrive in the U.S. as a domestic passenger and continue your journey quickly.
Q: How do I proceed to security screening?
Q: After Check-In, where should I go? 
A: After Check-In and before security you can explore our pre-security dining and shopping services. Well in advance of your flight's departure time, you should proceed to your designated security screening area:
Domestic/International Security Screening: Located adjacent to the food court on the main level of the terminal building.
U.S. Security Screening: Located on the 2nd floor of the terminal building.
Q: What is Security Screening and what lane should I use?
A: For Domestic/International travel, there are presently four different lanes for various types of travellers:
1. Verified Traveller (Nexus, Global Entry, Military, Air Crew/RAIC, RCMP/Police):
Travellers who have undergone extensive background checks and carry special photo identification cards.
Does the Verified Traveller Program Offer Security Screening Benefits?
When the full program begins operation later this summer, the Verified Traveller Lane enables expedited wait times and permits travellers to leave liquids and electronics in their carry-on, keep outwear on, and keep small items in their pockets. Verified Travellers may be accompanied by co-travellers who are 17 years or younger and 75 years or older.  Keep watching our website for updates on the launch date.
How is the Verified Traveller Program Currently Operating at Halifax Stanfield?
When open, travellers can proceed to the designated Verified Traveller Lane, which enables these travellers to skip to the front of the security screening line prior to undergoing regular screening by security staff.
2. Priority: Travellers with a priority boarding pass.
3. Family / Special Needs / Seniors: Persons travelling with young children or those requiring assistance or support through the screening process due to accessibility considerations.
4. General Traveller: All other travellers. These travellers do not require assistance or support and do not have a priority boarding pass.
If you are travelling with a pet (non-service animal), inform the screening officer. You may either stay at the checkpoint or proceed to a private search room, where you will need to remove your pet from their carrying case and detach any items (except collars and harnesses).
Q: How can I breeze through security screening?
A: Follow these steps:
Review the information available on CATSA's website ahead of time.
Have your boarding pass ready for verification. You may need to show photo identification, government-issued photo ID, or your passport.
Before lining up for security screening, make sure all the liquids, aerosols and gels in your carry-on are under 100 mL and fit into a 1-litre bag. Bags are available in the security area.
Proceed to your designated security screening lane.
Place personal items in bins.
Send your bin(s) and carry-on bag through the X-ray machine.
Pass through the walk-through metal detector.
Once the process is complete, retrieve your carry-on baggage at the X-ray machine and proceed to the departure area. Don't forget to double-check that you have all your belongings before leaving security!
Q: What should I do before I board my flight?
A: First, check the flight information display screens throughout our departures area to confirm your gate and its location. If you have time before your flight, feel free to enjoy the many amenities available, including a variety of dining and shopping options.