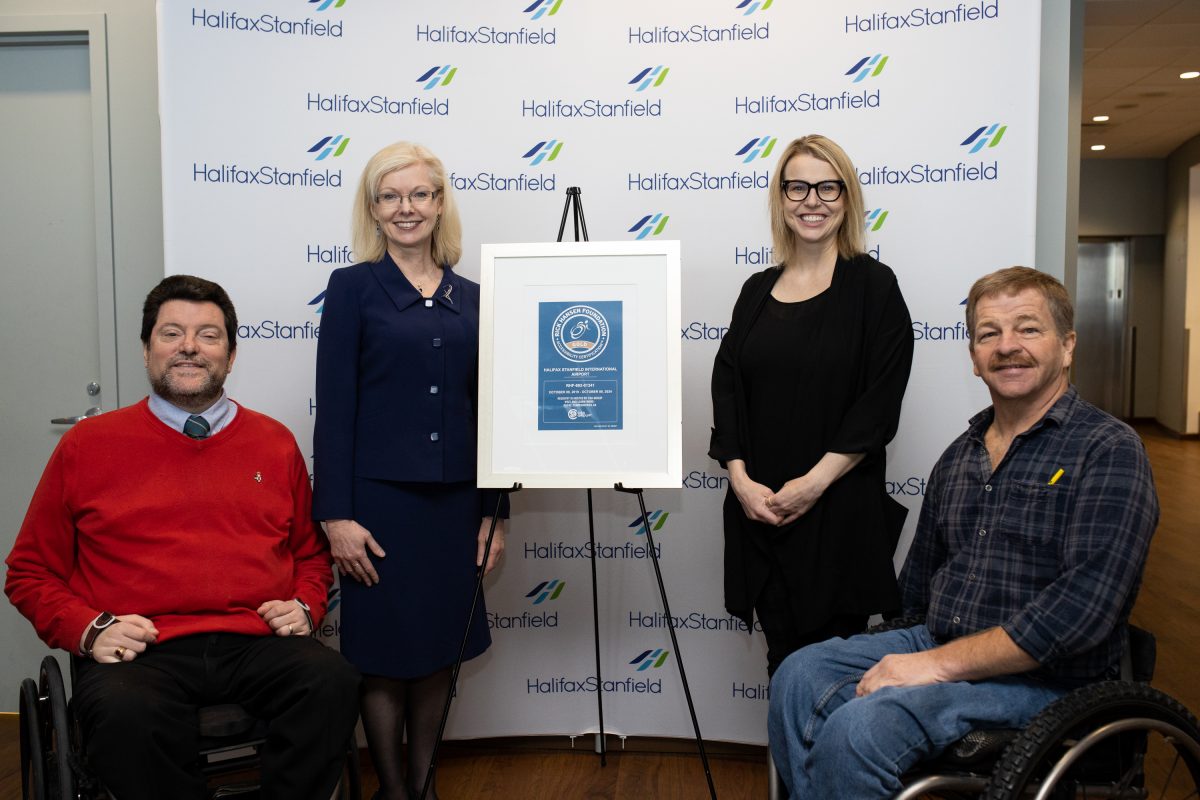 When visiting Halifax Stanfield in 2020, it's hard to believe the terminal building that exists today is nearly 60 years old. With bright interiors and large windows, modern washrooms and other passenger amenities, Halifax International Airport Authority (HIAA) has made strategic investments over the past two decades that put passenger needs, like accessibility, at the forefront.  
"We care deeply about making tangible improvements that raise the bar and better serve all passengers, partners and community members," said Joyce Carter, President and CEO, HIAA. "That's why last year, we engaged a Rick Hansen Foundation Accessibility Certification Professional to rate our facility and reaffirm our commitment to accessibility and inclusion at Halifax Stanfield." 
Today, HIAA is pleased to announce that Halifax Stanfield has received the 'RHF Accessibility Certified Gold' rating under the Rick Hansen Foundation Accessibility CertificationTM (RHFAC) program, the first Gold Certified facility in Nova Scotia. 
"This achievement is a testament to the ongoing efforts of HIAA's employees, partners, and our overall airport community, who help create a superior customer experience for everyone who passes through our airport," said Carter. "We're all very proud of this milestone." 
RHFAC is a national program and the first to rate meaningful access, based upon the holistic user experience of people with varying disabilities affecting their mobility, vision and hearing.  
"Many congratulations to Halifax Stanfield International Airport for its incredible success at achieving Accessibility Certified Gold status. People with visible and invisible disabilities experience accessibility challenges every day and with record numbers of passengers travelling through Canada's airports, it's critical that we create a country where everyone can go everywhere. I hope your leadership inspires others across Canada to innovate and become more accessible and inclusive so everyone can fully participate in society," said Rick Hansen, Founder, Rick Hansen Foundation. 
Halifax Stanfield has a broad range of accessibility features that led to this achievement, including:  
Customer care program (The Stanfield Way) that emphasizes supporting passenger 

needs;

 

 

Volunteer programs focused on a positive passenger experience (Tartan Team, St. John Ambulance Therapy Dogs

);

 

Autism Aviators

, a program that gives individuals on the Autism Spectrum a chance to experience the airport 

first-hand;

Versatile 

seating

 areas

 offering

 

numerous

 

options

;

Parkade

 facility with 

colour

-coordinated parking and eas

y-to-use p

arking machine 

payments;

 

Ample a

ccessible parking in all

 

parking

 lots

, including the 

p

arkade

;

 

Covered, well-lit pedway connecting 

the 

parkade

 and terminal 

building;

 

Pet relief areas for assistance 

animals

;

 

Clearly marked signage and 

wayfinding

;

 

Automated 

door

s

 

at all entrances and throughout the 

terminal

;

Automated External 

Defibrillators

 (AEDs)

 

and emergency phones throughout the terminal building;

 and,

 

Universal washrooms with accessible features such 

as

 emergency call systems

.

 
For more information about the RHFAC program, please visit the Rick Hansen Foundation website.