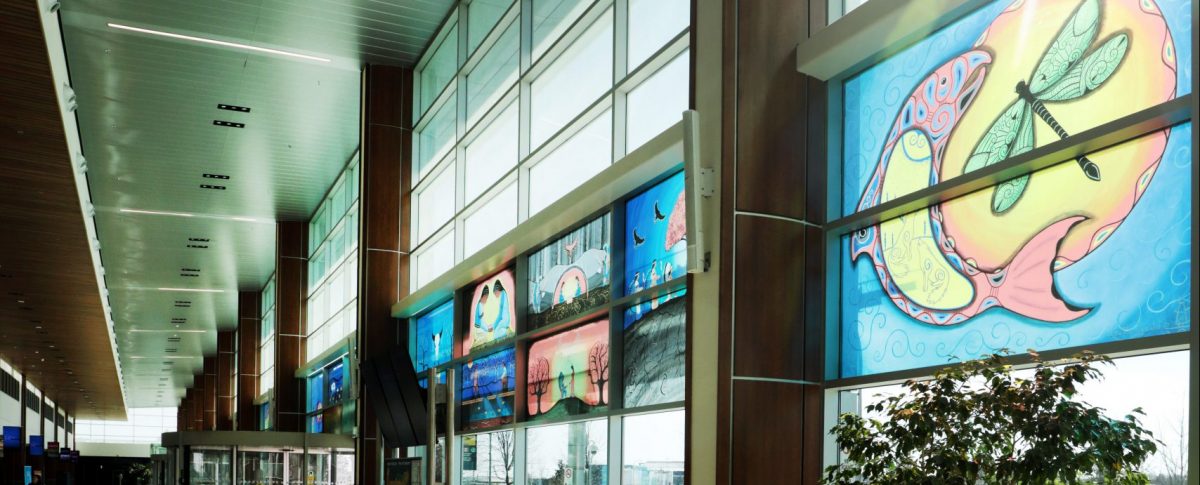 May 11, 2023
Today, at its annual public meeting, Halifax International Airport Authority (HIAA) reflected on the ongoing impact of the pandemic in 2022, and its ability to push boundaries and reach new heights in the face of global uncertainty.
"At Halifax Stanfield, 2022 was the tale of two airports. From record-low passenger volumes to peak travel days occasionally surpassing pre-pandemic levels, Halifax Stanfield experienced a rapid and dramatic increase in travel demand," said Joyce Carter, President & CEO, HIAA. "While this certainly created challenges, I'm proud to say our team rose to the occasion."
Total revenue in 2022 was $111.4 million, up 131 per cent from 2021, as passenger volumes almost tripled from 1.1 million in 2021 to 3.1 million in 2022. This resurgence in passenger activity stimulated both aeronautical and non-aeronautical revenue growth. Non-aeronautical revenue accounted for 55 per cent of total operating revenue, which is in the upper range of historical performance, and a reflection of HIAA's continued efforts to keep airline fees competitive during this period of recovery.
HIAA's improved revenue performance helped offset increased operating expenses and the loss of pandemic-related government support, which was reflected in HIAA's 2021 financial performance.
In 2022, total operating expenses exceeded revenue resulting in a net loss of $7.4 million, compared to a combined loss of $75 million for 2020 and 2021. While HIAA's financial and activity level recovery is not complete, continued moderate passenger growth over the next several years will eliminate the financial losses experienced over the course of the pandemic and support ongoing financial stability.
"After two years of depressed travel demand and limited revenue, 2022 brought a substantial increase in passenger activity that ultimately generated a significant improvement in financial performance compared to the prior two years," said Paul Brigley, Vice President, Finance & CFO, HIAA.
Throughout the year, HIAA maintained efforts to focus new initiatives on strategic priorities and necessary investments to maintain the safe and efficient operation of the airport.
"We are proud of the work our employees did in 2022 to meet service expectations, given the rapid resurgence in travel demand," said Brigley. "While there is still work to do, our outlook remains positive given the strong pace of recovery and forecasted growth over the coming years."
"Looking ahead to 2023, I feel a tremendous sense of optimism, both for the aviation industry as a whole and our airport, fueled by our vision, tenacity, and incredible team," said Carter. "While there are ongoing global challenges, we at Halifax Stanfield are well-positioned for continued growth."
Click here to download HIAA's 2022 Annual Report, Elevate, and read more about the organization's accomplishments and performance in 2022.
2022 Highlights
Halifax Stanfield was connected to 46 passenger and cargo destinations in 2022.
Passenger volume targets were surpassed, with Halifax Stanfield welcoming 3,107,425 passengers in 2022.
Lynx Air and Eurowings Discover began domestic and European passenger services at Halifax Stanfield.
70 per cent of airport concessions were open by the end of the year, including four new food and beverage options.
36,979 metric tonnes of cargo were processed, the second-best year on record.
The Halifax Stanfield Air Cargo Logistics Park officially opened in August, with a new building and five new aircraft parking positions. The new facility more than doubles previously existing cold storage capabilities and large aircraft parking positions.
Air Canada Cargo launched new dedicated freighter services to Europe.
Construction began on a new taxiway at the end of Runway 14, improving airport efficiency, enhancing safety, and reducing carbon emissions.
The detailed design and planning for an expanded International Connections Facility were completed.
Strong safety culture: HIAA had no lost time workplace injuries.
92 per cent of employees would recommend HIAA as a place to work.
HIAA completed a Sustainability Framework and Carbon Management Plan for implementation beginning in 2023.
Halifax Stanfield was recognized as the 2nd Most Reputable Airport in Canada according to Leger's 2022 Reputation survey.