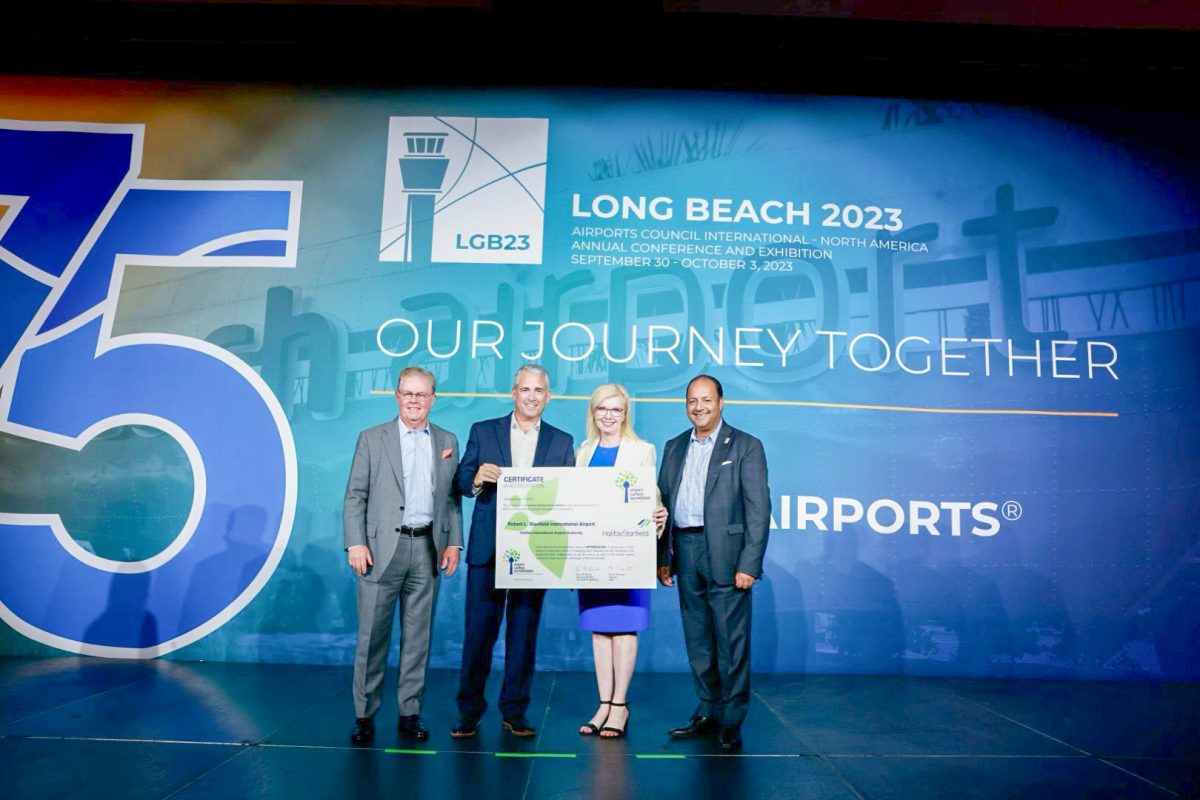 October 25, 2023
With an unwavering commitment to sustainability and the environment, Halifax Stanfield is pleased to announce that it has earned Level 3 – Optimization accreditation from the Airports Council International (ACI) Airport Carbon Accreditation program.
ACI's Airport Carbon Accreditation program is the only institutionally endorsed carbon management certification standard for airports. The program encourages airports to measure, manage, and reduce carbon emissions.
Achieving Level 3 – Optimization accreditation is a significant milestone for Halifax Stanfield that recognizes its work in managing and reducing its CO2 emissions and engaging stakeholders to do the same as part of the global airport industry's response to climate change.
Halifax International Airport Authority's (HIAA) President & CEO, Joyce Carter, expressed immense pride in Halifax Stanfield's commitment to sustainability, stating, "This accreditation reflects the team's dedication to reducing greenhouse gas emissions and minimizing its environmental footprint. The airport remains steadfast in its mission to lead the aviation industry in sustainable practices."
Halifax Stanfield's carbon management journey began in 2017 when it achieved Level 1 – Mapping, which involved calculating annual carbon emissions related to the airport's operations. With the dedication and support of its management and staff, HIAA set a carbon reduction goal for the airport and progressed to Level 2 – Reduction in 2018.
Today, Halifax Stanfield proudly stands at Level 3 – Optimization. To reach this level, airports must expand the scope of their carbon footprint to include emissions from things such as landing and take-off cycles and third-party ground service equipment. Additionally, airports must engage and support key airport stakeholders in decarbonizing their emissions sources.
Sustainability initiatives being undertaken by Halifax Stanfield to reduce its carbon footprint include:
The construction of a new taxiway to Runway 14 will assist in reducing aircraft engine idling. Transport Canada's Airport Critical Infrastructure Program provided over $14.7 million to support this project and other airfield improvements.
Installing electric vehicle charging infrastructure for airport operations equipment and those who park at the airport. Natural Resources Canada's Zero Emission Vehicle Infrastructure Program provided $180,000 for this initiative.
Replacing conventional lighting fixtures with energy-efficient LED technology at the approaches to Runways 14 and 23.
As part of its sustainability efforts, the airport will continue exploring innovative solutions to further reduce its carbon emissions, enhance energy efficiency, and promote sustainable aviation practices.
For more information, please visit https://halifaxstanfield.ca/airport-authority/sustainability/.