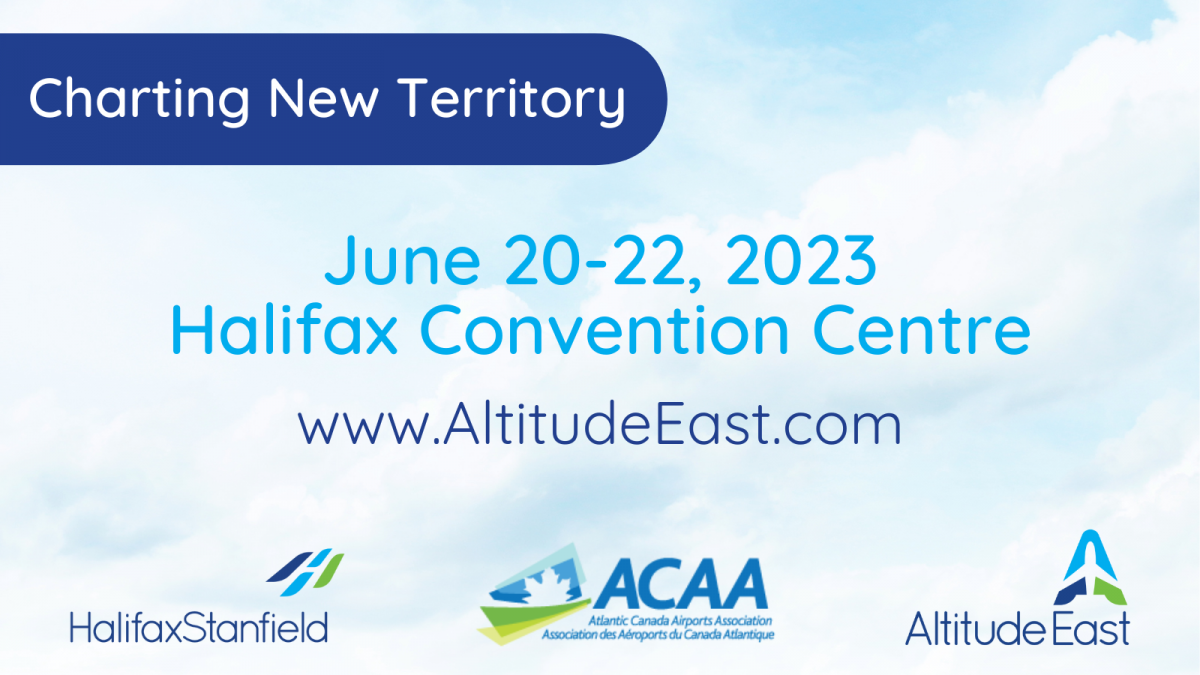 June 13, 2023
Halifax International Airport Authority is eagerly anticipating the upcoming Altitude East 2023 conference at the iconic Halifax Convention Centre from June 20–22, 2023.
As the premier aviation event in Atlantic Canada, Altitude East brings together airport, airline, and tourism industry professionals for a dynamic and insightful conference experience. Altitude East 2023 is proudly hosted by Halifax Stanfield, in partnership with the Atlantic Canada Airports Association, with support from Atlantic Canada Opportunities Agency and presenting sponsor, Air Canada.
"We look forward to hosting Altitude East 2023 in Halifax, where the vibrant aviation community will come together to connect, learn, and explore new opportunities," said Joyce Carter, President & CEO, Halifax International Airport Authority. "With the theme of Charting New Territory, this year's conference will provide invaluable insights and strategies to navigate the ever-changing aviation landscape and build a stronger, more resilient future for our industry and the communities we serve."
Altitude East features engaging keynote addresses and panel sessions that delve into current and future industry issues and trends, providing high-quality content and fostering meaningful discussions. Highlights include:
Keynote Address with Tareq Hadhad, Founder and CEO of Peace by Chocolate. Tareq will share his inspiring journey and insights on building a successful business.
Keynote Address with Christian Keldsen, CEO of the Greenland Business Association. Christian will share how Greenland is investing in sustainable infrastructure to attract adventure tourists and new business opportunities.
Additionally, the conference offers attendees exclusive access to a range of invaluable opportunities, including pre-scheduled business meetings between airports and airlines to discuss air service development, and a curated trade fair for innovative services and revenue sources that will take your business to the next level. Altitude East is pleased to have participation from 18 airports and seven airlines.
For registration and more information about Altitude East 2023, please visit the official event website at www.altitudeeast.com.