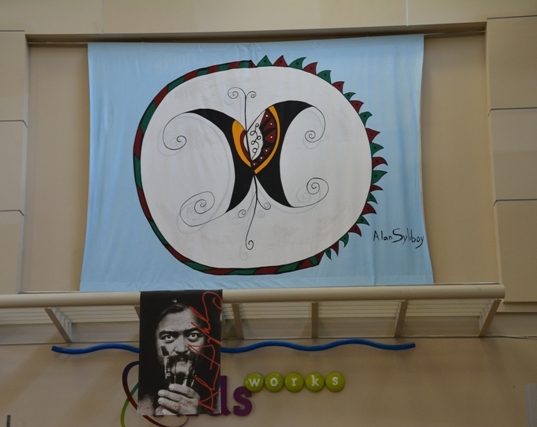 3D Butterfly
Artist: Alan Syliboy
Multimedia Artist: Nance Ackerman
Location: Main Lobby
World-renowned Mi'kmaq artist, Alan Syliboy, partnered with Halifax Stanfield International Airport and the province of Nova Scotia to create 3D Butterfly, a 4.5 meter wide by 4.5-meter high mural. The mural was painted live in the Halifax Stanfield main lobby over three days in August of 2013. Alan did this work while standing on scaffolding, two storeys high.
The public was invited to the terminal to watch Alan's creation unfold in person or view the progress online. The event was live-streamed along with regular updates posted to Facebook and Twitter and the weekend was a celebration of Nova Scotia Mi'kmaq culture with music and friends.
A year after 3D Butterfly was complete, award-winning filmmaker, Nance Ackerman provided the debut screening of her short film, Carry Me Home, which chronicles the creation of the painting and explains the symbolism of the butterfly. This night also marked the beginning of the journey the butterfly completed across Nova Scotia, and Canada, during 2015.
The print depicts a butterfly and is done with the Mi'kmaq double-curve motif, which symbolizes life. The butterfly represents the freedom of the soul to wander and it flies in the ray of Grandfather Sun, the giver of life.
3D Mimikej
Nuji Natawiteket: Alan Sylliboy
Kaqisimilukwet Internet-iktuk Natawiteket: Nance Ackerman
Welnenu't Mi'kmaq Nuji Natawiteket , Alan Sylliboy toqi-lukwejik Jipuktukewey Stanfield International Airport aqq maw Nopa Skotia kisitutij "3D Mimikej" u't 4.5 meter teliske'k aqq 4.5 meter telipitoqsik kisitutij temsaqasikewey napui'kaqn . |U't napuikaqn etlitasiks~p ke's wskwijinu'k eymutijik aqq nemitu'tij, teli pekija'lisip to'q si'stewel nakwekl Kisikwekewiku's 2013ek. Alan u't kisitoqsip ke's kaqamit espetek l'kusuaqn kisi aliqamk.
Ms~t wen wikmut klapis kis jiko'taq Alan lukwaqnm aqq ankaptminew ta'n tetuji ki's kisatoq e'wmitij internet. U't kisi nemitasitew tan tujiw nasa'sin internet-iktuk aqq kaqisk nakwe'k kekinua'teketoq e'wmitij facebook aqq maw Twitter aqq ikaq tan tujiw kaqi -lukwitmk , na tujiw poqjiaq tan mawi kepmite'tasik Mikmawey u't Mi'kma'ki .
Ki's pemiaq newti-punkek "3D Mimikej" kaqi kisatasik , e'pit tan wette'kep wjit eltoql movie'l , Nance Akerman ne'atoqsip tan kisitoqip toqaqjijk movie teliwi't~ksip , "L'malitesk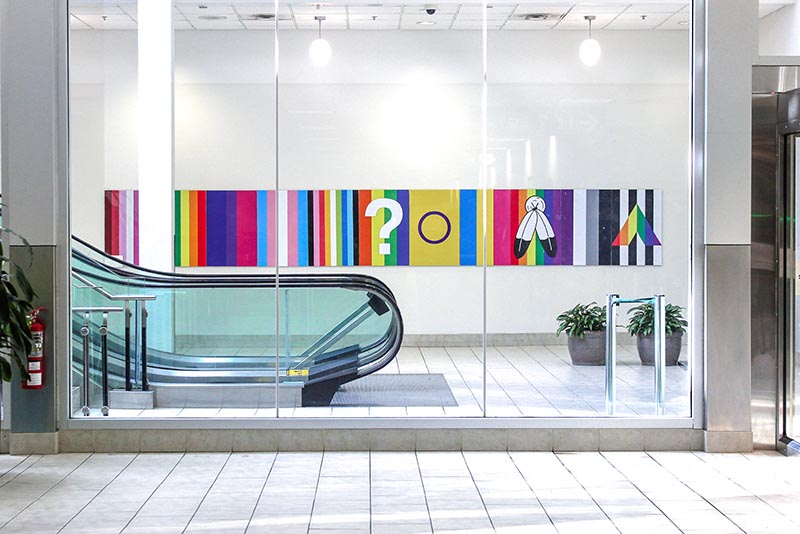 Identities
Artist: Arjun Lal
Location: Bottom of the escalators before entering the Domestic Baggage Hall
Arjun Lal was born in Halifax and identifies as a queer person of colour. They are a current student at NSCAD (Nova Scotia College of Art and Design) and have been focusing on themes of community building, public installation and queer culture in their work.
"Art means many things to me. It's something I use to relax or a tool to effect changes. I'm interested in feelings of joy and how to find it, share it, or create a sensation of joy for others," says Lal.
Lal's installation is inspired by the individuality of people in Canadian culture. This piece was made to acknowledge identities that add diversity and vibrancy within communities. Lal hopes people arriving in Halifax see this piece and feel welcomed, knowing our culture recognizes a growing awareness of identities.
Family Portrait
Artist: Heather Savard
Location: Mezzanine Hallway
Heather Savard was born in Edmonton and attended the University of Alberta where she completed a Bachelor of Science in Kinesiology in 2016. Since then, she has been pursuing a Bachelor of Fine Arts at the Nova Scotia College of Art and Design, with a focus on sculpture.
Heather is interested in the relationships that exist between people and ideas. In her work, she hopes to deconstruct these relationships and rebuild them to inform understanding while withholding explanation.
Family Portrait is a series of five open pour castings of aerial views of airport runways. They are based on the five Canadian cities of Kelowna, Edmonton, Saskatoon, Winnipeg and Halifax. The cities were chosen based on where the members of Heather's immediate family live. Ultimately the work explores ideas of family tension, displacement, and how airplanes and airports have altered the way people disperse.